SPECIAL OFFERS
Lifting-acupuntura facial: 6 sesiones al precio de 5  
Resultados visibles desde la 1ª sesión
Bonos familiares: 5 sesiones con un 10% descuento
Para ser usado por padres e hijos
Please call reception to make your booking 91 576 97 57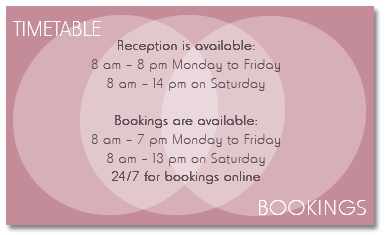 Reception can get busy so please leave a message if you can't get through at first. We can also take bookings via email on web@natureseq.com or by filling out the contact form. Please kindly state the techniques that you would like to book for (if you have a preferred one) and the preferred dates and times. We will come back to you with the closest availability.
Look at the individual practitioner's 
profile
 for information on when they assist. Sometimes they are flexible and can work outside of the times stated so feel free to ask when booking your appointment with reception
Comments or questions are welcome.
Privacy Policy
Cancellation Policy:
Please be aware that full payment is required for any cancellation received with less than 24 hours' notice.
________________________________ Gift Vouchers ________________________________
Give the gift of health, pampering or a new experience with a gift voucher from Nature's EQ.

All gift vouchers are valid for six months from the date of purchase.
To purchase a gift voucher for any technique or any amount, you have these options:
Call reception on 91 576 97 57 at the times detailed above

Via email on

web@natureseq.com

Fill out the contact form