Naturopathic physician, Biodynamic Craniosacral Therapy, Iridologist, Yoga teacher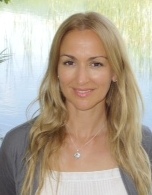 Techniques: Naturopathic physician, Biodynamic Craniosacral Therapy, Iridologist, Yoga teacher
Qualification: Bsc (Hons), MRN, RCST, ITRD
Registered Member of: OCN FENACO (Spain) #3038
GCRN and BNA, General Council of Registered Naturopaths (UK) and British Naturopathic Association, RCST Registered of the Craniosacral Therapist Association (UK)
Profile: Trained at the University of Westminster (London) at the Department of Health Sciences: Complementary therapies degree (Naturopathic Medicine pathway), formal and regulated training in the United Kingdom.
Silvia lectured at Westminster University, whilst in charge of the 'University Naturopathic Polyclinic'. At the same time she assisted the students and practice at the Polyclinic. She specialised in Biodynamic Craniosacral Therapy at the Craniosacral Therapy Educational Trust and she currently is a tutor at the Biodynamic Craniosacral therapy training for Body Intelligence. 
She served as vice president of the international naturopaths in Spain under FENACO, in addition to being claimed by FENACO as the first Spanish Naturopath to teach at a foreign university.
Silvia is an experienced Hatha Yoga teacher, Kinesiologist, Iridologist and EMO Trance practitioner. In addition, she uses a variety of naturopathic techniques in her consultation such as hydrotherapy, food naturopathy, herbal methods, flower essences, among others.
Message from Silvia 
To take appointments, please contact reception on 91.576.97.57 or send an e-mail to web@natureseq.com. I will come back to you with the closest availability. Thank you!