Biodinámica Craneosacral, Osteopatía, Drenaje Linfático Manual (Método Vodder), profesora de Yoga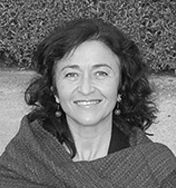 Techniques: Biodynamic Craniosacral T., Osteopathy, Manual Lymphatic Drainage (Vodder method), Yoga teacher
Qualification: BCST (Biodynamic Craniosacral Therapist) – Craniosacral Biodynamics 2 years course, Karuna Institute (curso impartido por Franklyn Sills) en Devon (Inglaterra).  Osteopatía Craneal, Miofascial, Funcional, Visceral y Estructural en Santander (curso impartido por René Daubagna) y Madrid.  Técnicas de Cadenas Musculares. Drenaje Linfático Manual (Institut Ferlo – Dr. Vodder). Instructor de Masaje Infantil (Certified Infant Massage Instructor) por AEMI (International Association of Infant Massage).  Quiromasaje general y deportivo. Reflexología Podal. Certificado de formación de profesores de  Yoga Anusara, curso aprobado e inscrito en Yoga Alliance (EEUU)
Registered Member of: AETBC (Asociación Española de la Terapia Biodinámica Craneosacral)
Profile: Después de concluir el primer curso de masaje, Juana Mª decide continuar recorriendo gran parte del amplio abanico de técnicas manuales y naturales hasta que, finalmente, es en la comprensión del origen de la Osteopatía, de su verdadera naturaleza y alcance, donde decide establecerse, guardando dilección en la Biodinámica Craneosacral.
Juan Mª enmarca su trabajo en dos principios. El 1º, el cuerpo humano coexiste como "uno" con sus singularidades físicas, mentales, espirituales y emocionales. En él se encuentran los mecanismos y la sabiduría innata que promueven la regulación y el equilibrio del organismo, así como su homeostasis.  El 2º trata de la existencia de una fuente de salud y bondad en lo más profundo del ser humano. Su curiosidad,  experiencia, formación y vivencias se palpan en su gabinete y clases.
Message from Juana 
To take appointments, please contact reception on 91.576.97.57 or send an e-mail to web@natureseq.com. I will come back to you with the closest availability. Thank you!