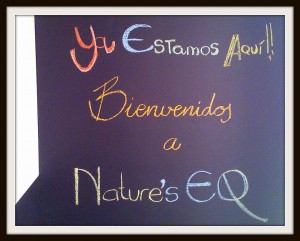 We are ready to start!
A few days ago, Tuesday 10th September, we had the honour to meet up with friends, guests and professionals in the space created to host our Naturopathic Centre in Madrid. We wanted to share with them the joy of completing the Centre's initial step: the completion of a harmonic, modern, personalised and versatile place. But did the initial perception of our guests matched ours? Listening to their impressions was a very enriching experience; elegant, cosy and full of surprises were some of the most repeated comments. It is always interesting to observe how others can interpret our own intentions and this time it appears we even raised their expectations. Excellent start!
Our guests conversations steadily focused towards the same theme: we are getting more and more worried about the quality of our health, not just of the final product, but the process in which we get to our optimum health. At some point through the evening, all our guests approached me to inquire further about the advantages and benefits of embracing Naturopathy as a health system. I am passionate talking about this subject, especially after the amount of time, study and work I have giving into it. However, I get even more excited when I hear different individuals, who have already tried some naturopathic techniques, become the advocates of Naturopathy. And trust me, that is really rewarding!
The evening run smoothly and no one wanted to leave without expressing their good wishes, which we feel compliant to convert into reality. Our next steps are already on the way, increasing our experienced professional and enthusiastic team to make of Nature's EQ the reference naturopathic Centre in the area. We are committed to make a difference and we will work every day with the aim to improve the health in our community.
I wish to thank everyone who attended our presentation in our Centre, your Centre.
Looking forward to keep meeting you in Nature's EQ!