Osteopatía. Talleres Gimnasia abdominal hipopresiva, Suelo pélvico, Embarazo y post-parto. Drenaje linfático manual      WEB Nerea Roldán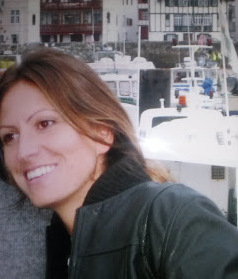 Techniques: Osteopatía, Talleres Gimnasia abdominal hipopresiva, Suelo pélvico, Embarazo y post-parto. Drenaje linfático manual
Qualification: Diplomada en Fisioterapia por la Universidad Europea de Madrid. Certificado Osteopático por la Universidad de Alcalá de Henares y la Escuela de Osteopatía de Madrid. Osteopatía en uro-ginecología y suelo pélvico. Especialización en Fisioterapia Obstétrica por la Universidad de Castilla la Mancha. 3º curso de 'medicina tradicional china', escuela TAE MO. Formación con el Dr. Marcel Caufriez en Gimnasia Abdominal Hipopresiva
Registered Member of: Fisioterapeuta y Osteópata colegiada nº 1.200
Profile: Fisioterapeuta y Osteópata, especializada en suelo pélvico, gimnasia abdominal hipopresiva y fisioterapia obstétrica. Acabó sus estudios de Fisioterapia en el año 99 y en 2003 abrió su propia consulta en Boadilla del Monte, Madrid, ejerciendo diversas especialidades como la osteopatía, fisioterapia deportiva, suelo pélvico, embarazo-post-parto y drenaje linfático manual. Desde entonces hasta 2009, trabajó y se formó en distintas ramas de la fisioterapia y la osteopatía, haciendo de la salud de la mujer una parte muy importante de su trabajo. En el año 2009, a raíz de su maternidad, se involucra más en el campo femenino, ocupando éste la mayor parte de sus consultas. Organiza actividades en grupo, charlas y talleres de fisioterapia para mujeres (sobre el embarazo, post-parto, la menopausia y gimnasia abdominal hipopresiva), colabora con varios centros médicos y facultativos y además dedica gran parte de sus horas de consulta a tratar disfunciones del suelo pélvico y de la esfera uro-ginecológica.
Simultáneamente, Nerea realiza salud divulgativa, impartiendo charlas gratuitas de suelo pélvico en distintos entornos femeninos.
Message from Nerea 
To take appointments, please contact reception on 91.576.97.57 or send an e-mail to web@natureseq.com. I will come back to you with the closest availability. Thank you!